Fusion Splicer-Fujikura FSM 20PM
Service Line: 06 Networking and Fiber Optics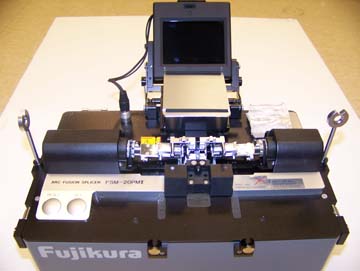 Fujikura Fusion Splicer
The Fujikrua model FSM-20PMII Arc Fusion Splicer (type-T) is designed to splice optical glass fiber for telecommunications.
Polarization maintaining optical fiber (PM), normal single-mode fiber (SM) and multi-mode fiber (MM) are applicable for splicing.
The splicer performs fiber gap setting, core/cladding alignment and splice automaticllay by image processing by an internal moicroprocessor.
Manufacturer: Fujikura
Model: FSM-20PMII
Contact:
Scott Williams
704-687-8126
scotwill@charlotte.edu
Tool Location:
Grigg Hall, Second Floor Room: 239 Bay Number: N/A